What To Do After A Pedestrian Accident In Philadelphia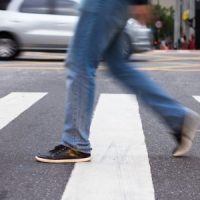 Pedestrian safety is a very serious issue. Alarmingly, the Governors Highway Safety Association (GHSA) reports that pedestrians account for nearly 1 in 5 traffic fatalities nationwide. If you or a loved one is hurt in a pedestrian crash, it is imperative that you know what to do to protect your rights and your interests. Here, our Philadelphia car accident lawyer highlights the steps that you should take after a pedestrian collision in Pennsylvania.
Step #1: Report the Pedestrian Collision to Law Enforcement 
Report a pedestrian accident right away. In the immediate aftermath of an accident, your first priority should be to call the police. Contact the Philadelphia Police Department or another local or state law enforcement agency. A responding police officer will document the incident and file an official police report, a critical piece of evidence if you choose to pursue legal action. During this time, you should exchange information with the driver who hit you.
Step #2: Seek Immediate Medical Attention for Emergency Injuries 
All pedestrian accident injuries should be evaluated by a licensed physician. Of course, nothing takes priority before an emergency. A severe injury requires immediate attention. You may need to take an ambulance ride to the nearest emergency room. Non-emergency injuries should still be evaluated right away. Not all injuries fully manifest symptoms right away. Delaying treatment could worsen your condition. Further, waiting to see a doctor could undermine your injury claim.
 Step #3: Document the Crash (Take Pictures, Get Witness Statements, etc) 
While still at the scene, if you're physically able, gather as much evidence as possible. Take photographs of the accident scene, your injuries, and any property damage. If there were witnesses, ask for their contact information and statements. The more details you have about the pedestrian crash, the better positioned that you will be to bring a successful personal injury case. The information that you gather will be invaluable in building your case. Fault matters in a Pennsylvania pedestrian accident claim.
S tep #4: Consult With a Lawyer Before Giving a Statement to an Insurance Adjuster 
After the accident, you'll likely be contacted by an insurance adjuster. While it may seem like they're there to help, their goal is to minimize the insurance company's payout. Avoid giving a statement without first consulting with a Philadelphia pedestrian injury lawyer. Your attorney will be able to review the specific situation, gather relevant evidence, and build a strong, well-supported case designed to help you secure the absolute maximum financial compensation.
Get Help From a Philadelphia Pedestrian Injury Attorney Today
At Ellenberg Law Group, our Philadelphia pedestrian collision lawyer is an aggressive, experienced, and effective advocate for victims and families. If you or your loved one was hurt in a pedestrian crash, we are here to help. Call us now or contact us directly online for a no cost, no obligation review of your case. From our office in Philadelphia, we represent injured pedestrians throughout the region, including in Montgomery County, Chester County, and Delaware County.
Source:
ghsa.org/resources/news-releases/GHSA/Ped-Spotlight-Full-Report22