Your Guide To Rear-End Collisions In Pennsylvania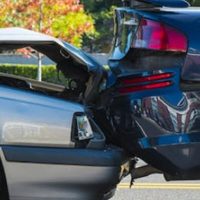 Car crashes happen every day in our region. According to data from the Pennsylvania Department of Transportation (PennDOT), there were more than 104,000 motor vehicle collisions reported in the Commonwealth in 2020 alone. Approximately half of car accidents are multi-vehicle crashes—with rear-end collisions being the most common type of multi-vehicle accident. Here, our Philadelphia car accident lawyer provides a detailed guide to rear-end collisions in Pennsylvania.
Pennsylvania is a "Choice" No-Fault Car Accident State 
Pennsylvania is one of a minority of U.S. states that has a partial no-fault auto insurance law in place. In Pennsylvania, drivers are required to obtain and maintain the minimum mandatory auto insurance coverage. The coverage includes no-fault insurance coverage—unless a motorist decides to "opt-out" of the no-fault insurance system. Under Pennsylvania's no fault car insurance statute, the initial $5,000 in each party's medical bills will generally be handled by their own no-fault coverage regardless of how and why the crash occurred.
Fault is Still an Important Issue in Pennsylvania (Rear Driver Not Automatically Liable) 
Even with a no-fault auto accident standard in place, fault is still a relevant issue in rear-end collisions in Pennsylvania. To start, property damage claims (vehicle repairs) are not covered by the no-fault insurance. As such, drivers can still seek to hold the at-fault party responsible for their vehicle repairs. Further, serious injuries fall outside of the no-fault standard in Pennsylvania. A person who sustained a serious injury in a rear-end collision has a right to file a claim.
Most often, the rear driver is the party who is responsible for causing a rear-end collision. This can happen for many different reasons—from distracted driving to speeding to following too closely. That being said, a rear driver is not automatically at-fault for a rear-end crash in Pennsylvania. The front driver could also potentially bear blame depending on the circumstances. All rear-end collisions should be comprehensively investigated by a Philadelphia car accident lawyer.
 Recovering Financial Compensation for Your Damages 
Were you seriously injured in a rear-end collision in Southeastern Pennsylvania? You have the right to seek financial compensation for the full extent of your economic and intangible losses. Our Philadelphia, PA car accident lawyer has a deep understanding of the state's car accident injury claims process. Through a rear-end collision accident claim, you have the right to claim damages for losses such as:
Vehicle repairs;
Emergency medical treatment;
Hospital bills;
Health care costs;
Physical therapy;
Lost wages;
Loss of earning power;
Pain and suffering;
Disfigurement;
Disability; and
Wrongful death of a family member. 
Schedule a Free Consultation With a Philadelphia, PA Car Accident Attorney
At Ellenberg Law Group, our Philadelphia auto accident lawyer has the skills and experience to handle the full range of rear-end collisions. If you or your family member was hurt in a rear-end crash, we are here to help. Contact us today to set up a free, no obligation case review. From our Philadelphia law office, we handle rear-end collision claims throughout Southeastern Pennsylvania.
Source:
penndot.pa.gov/TravelInPA/Safety/Documents/2020_CFB_linked.pdf