What To Know About EB2-C Green Cards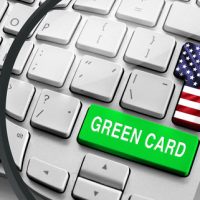 The EB2 visa is an employment-based visa that can provide a path to lawful permanent residency in the United States. In other words, you could get a green card if you qualify for an EB2 visa. An EB2-C visa is a subcategory for those whose lawful permanent residency is in the "national interest" of the United States. In this article, our Philadelphia immigration lawyer explains the key things to know about EB2-C green cards.
 An EB2 Visa is a Second Preference Employment Visa (Green Card Eligible) 
As described by United States Citizenship and Immigration Services (USCIS), an EB2 Visa is a second preference employment visa. USCIS notes that this type of employment visa is designed for "a member of the professions holding an advanced degree or its equivalent, or a person who has exceptional ability." A key thing to know about the EB2 visa is that it allows a person to qualify for a green card.
Note: An EB2 visa provides a green card to the applicant. Additionally, the spouse and unmarried children under the age of 21 can also accompany the applicant to the United States.
 An Overview of the EB2-C (National Interest Waiver) 
There are actually several different subcategories of EB2 employment visas. The first category (EB2-A) is designed for those with advanced degrees. The second category (EB2-B) is designed for those who have demonstrated exceptional ability in their field. The final category (EB2-C) is reserved for those whose permanent residency is in the national interest of the United States.
Notably, the EB2-A and the EB2-B both require sponsorship from an American employer. However, that is not the case with an EB2-C visa. With this type of visa, an applicant can self-petition for a green card. Though, doing so can be challenging. They must be able to prove that their permanent residency is in the interests of the country.
 An Immigration Lawyer Can Help You Navigate the Application Process 
Immigration is complicated. It is a paperwork-intensive process. You and your family do not have to navigate the EB2-C employment visa green card application process alone. An experienced Philadelphia immigration lawyer can answer your questions, help you organize all of your documents and records, and guide you through the complexities of the EB2-C application process. With EB2-C green card applications, it is especially important to work with a qualified immigration lawyer who can help you put together a strong application to prove that permanent residency is in the national interest of the United States.
 Contact an Immigration Law Attorney in Philadelphia, PA for Immediate Help
At Ellenberg Law Group, our Philadelphia immigration lawyer has the skills and legal experience to handle the full range of EB2-C green card cases. We have prepared thousands of common questions asked by USCIS to help our clients better prepare for the process. Contact us today to set up a strictly confidential initial appointment. With a law office in Philadelphia, our firm provides immigration law services throughout all of Southeastern Pennsylvania.
Source:
uscis.gov/working-in-the-united-states/permanent-workers/employment-based-immigration-second-preference-eb-2